Denervarea arterelor renale, o procedura minim invaziva pentru controlul hipertensiunii arteriale rezistente la tratament
Articol redactat de Dr. Nicolae Carstea, medic primar cardiolog ARES
1. Cum se defineste hipertensiunea arteriala rezistenta la tratament?
Hipertensiunea arteriala este definita ca rezistenta la tratament atunci cand, aplicand strategia terapeutica recomandata ( modificarea stilului de viata si administrarea unei triple terapii antihipertensive care sa includa si un diuretic)1 nu se obtine reducerea valorilor TA la cabinet sub 140/80mmHg. Diagnosticarea hipertensiunii rezistente necesita excluderea hipertensiunii pseudo-rezistente si a cauzelor de hipertensiune arteriala secundara care includ in principal hiperaldosteronismul primar, boala renovasculara si boala cronica de rinichi. 1,2
Strategia terapeutica recomandata trebuie sa includa masuri adecvate ale stilului de viata (dieta hiposodata, scaderea in greutate, renuntarea la fumat, reducerea consumului de alcool si exercitii fizice regulate) asociat cu tratament medicamentos in doze optime sau cel mai bine tolerate de pacienti, din trei clase de antihipertensive (inhibitor al enzimei de conversie a angiotensinei sau sartan, blocant al canalelor de calciu si un diuretic).1
1. In ce consta procedura de denervare renala?
Denervarea renala este o procedura inovatoare, minim invaziva, non-farmacologica de tratament al hipertensiunii arteriale. Rinichiul joaca un rol central in reglarea tensiunii arteriale, hipertensiunea arteriala apare atunci cand se declanseaza o hiperactivitate a sistemului nervos simpatic catre rinichi.
Procedura de denervare renala indeparteaza terminatiile nervoase de la nivelul arterelor renale prin livrarea unor unde de radiofrecventa, astfel se produce reducerea hiperactivitatii nervoase ce determina scaderea tensiunii arteriale.
2. Cui este adresata? Ce pacienti se califica pentru aceasta procedura?
1. Hipertensiunea rezistenta la tratament: Studiile care au implicat denervarea renala au demonstrat reducerea valorilor tensiunii arteriale in asociere cu medicatia antihipertensiva.3,4
2. Pacienti care prezinta intoleranta la diverse medicamente antihipertensive in mod particular cele de prima linie inhibitori ai enzimei de conversie, sartani, blocanti ai canalelor de calciu sau diuretice.
3. Afectarea de organ inta mediata de hipertensiune si riscul cardiovascular: Pacientii hipertensivi cu afectare coronariana sau cerebrovasculara prezinta cel mai ridicat risc cardiovascular5, in cazul acestor pacienti controlul adecvat al tensiunii arteriale aduce beneficii in reducerea riscului absolut cardiovascular5. Denervarea renala poate avea efecte benefice aditionale efectului hipotensor in randul pacientilor cu comorbiditati care se asociaza cu cresterea activarii sistemului nervos simpatic6.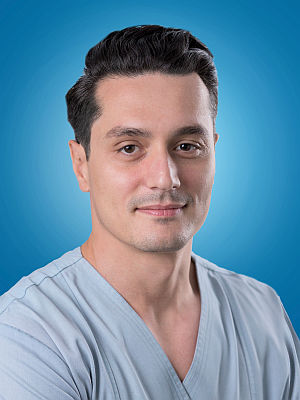 3. Este nevoie de reinterventie sau rezultatele se mentin pe termen lung?

Conform studiilor publicate recent ( Global SYMPLICITY Registry7, SPYRAL HTN-ON MED trial8, RADIANCE-HTN SOLO trial9) care au demonstrat ca efectul de reducere a tensiuni arteriale in randul pacientilor cu denervare renale este sustinut cel putin 3 ani, cu un trend continuu de reducere a teniunii arteriale in timp9,10.
4. Exista riscuri asociate procedurii?
In urma revizuirii de catre experti a numeroase registre in ceea ce priveste siguranta procedurii de denervare renala, nu s-au identificat alte riscuri specifice legate de procedura de denervare renala in afara de complicatiile asociate abordului vascular (sub 1%), administrarii substantei de contrast si al expunerii pacientului la radiatii 11.
5. Este nevoie de un regim special de viata ( dieta + stil de viata) dupa procedura?
Posteprocedural se recomanda mentinerea unui stil de viata sanatos care include: reducerea consumului de sare, dieta mediteraneana, scaderea in greutate, renuntarea la fumat, reducerea consumului de alcool si exercitii fizice regulate.
1. Williams B, Mancia G, Spiering W, Agabiti Rosei E, Azizi M, Burnier M, Clement DL, Coca A, de Simone G, Dominiczak A, Kahan T, Mahfoud F, Redon J, Ruilope L, Zanchetti A, Kerins M, Kjeldsen SE, Kreutz R, Laurent S, Lip GYH, McManus R, Narkiewicz K, Ruschitzka F, Schmieder RE, Shlyakhto E, Tsioufis C, Aboyans V, Desormais I; ESC Scientific Document Group. 2018 ESC/ESH Guidelines for the management of arterial hypertension. Eur Heart J. 2018;39:3021-104.
2. Berra E, Azizi M, Capron A, Hoieggen A, Rabbia F, Kjeldsen SE, Staessen JA, Wallemacq P, Persu A. Evaluation of Adherence Should Become an Integral Part of Assessment of Patients With Apparently Treatment-Resistant Hypertension. Hypertension. 2016;68:297-306.
3. Kandzari DE, Böhm M, Mahfoud F, Townsend RR, Weber MA, Pocock S, Tsioufis K, Tousoulis D, Choi JW, East C, Brar S, Cohen SA, Fahy M, Pilcher G, Kario K; SPYRAL HTN-ON MED Trial Investigators. Effect of renal denervation on blood pressure in the presence of antihypertensive drugs: 6-month efficacy and safety results from the SPYRAL HTN-ON MED proof-of-concept randomised trial. Lancet. 2018;391:2346-55.
4. Azizi M, Sanghvi K, Saxena M, Gosse P, Reilly JP, Levy T, Rump LC, Persu A, Basile J, Bloch MJ, Daemen J, Lobo MD, Mahfoud F, Schmieder RE, Sharp ASP, Weber MA, Sapoval M, Fong P, Pathak A, Lantelme P, Hsi D, Bangalore S, Witkowski A, Weil J, Kably B, Barman NC, Reeve-Stoffer H, Coleman L, McClure CK, Kirtane AJ; RADIANCE-HTN investigators. Ultrasound renal denervation for hypertension resistant to a triple medication pill (RADIANCE-HTN TRIO): a randomised, multicentre, single-blind, sham-controlled trial. Lancet. 2021;397:2476-86.
5. Blood Pressure Lowering Treatment Trialists' Collaboration. Blood pressure-lowering treatment based on cardiovascular risk: a meta-analysis of individual patient data. Lancet. 2014;384:591-8.
6. Barbato E, Azizi M, Schmieder RE, Lauder L, Böhm M, Brouwers S, Bruno RM, Dudek D, Kahan T, Kandzari DE, Lüscher TF, Parati G, Pathak A, Ribichini FL, Schlaich MP, Sharp ASP, Sudano I, Volpe M, Tsioufis C, Wijns W, Mahfoud F. Renal denervation in the management of hypertension in adults. A clinical consensus statement of the ESC Council on Hypertension and the European Association of Percutaneous Cardiovascular Interventions (EAPCI). Eur Heart J. 2023 Apr 17;44(15):1313-1330. doi: 10.1093/eurheartj/ehad054. PMID: 36790101.
7. Singh RR, McArdle ZM, Iudica M, Easton LK, Booth LC, May CN, Parkington HC, Lombardo P, Head GA, Lambert G, Moritz KM, Schlaich MP, Denton KM. Sustained Decrease in Blood Pressure and Reduced Anatomical and Functional Reinnervation of Renal Nerves in Hypertensive Sheep 30 Months After Catheter-Based Renal Denervation. Hypertension. 2019;73:718-27.
8. Mahfoud F, Böhm M, Schmieder R, Narkiewicz K, Ewen S, Ruilope L, Schlaich M, Williams B, Fahy M, Mancia G. Effects of renal denervation on kidney function and long-term outcomes: 3-year follow-up from the Global SYMPLICITY Registry. Eur Heart J. 2019;40:3474-82.
9. Kandzari DE, Mahfoud F, Weber MA, Townsend R, Parati G, Fisher NDL, Lobo MD, Bloch M, Böhm M, Sharp ASP, Schmieder RE, Azizi M, Schlaich MP, Papademetriou V, Kirtane AJ, Daemen J, Pathak A, Ukena C, Lurz P, Grassi G, Myers M, Finn AV, Morice MC, Mehran R, Jüni P, Stone GW, Krucoff MW, Whelton PK, Tsioufis K, Cutlip DE, Spitzer E. Clinical Trial Design Principles and Outcomes Definitions for Device-Based Therapies for Hypertension: A Consensus Document From the Hypertension Academic Research Consortium. Circulation. 2022;145:847-63.
10. Mahfoud F, Kandzari DE, Kario K, Townsend RR, Weber MA, Schmieder RE, Tsioufis K, Pocock S, Dimitriadis K, Choi JW, East C, D'Souza R, Sharp ASP, Ewen S, Walton A, Hopper I, Brar S, McKenna P, Fahy M, Böhm M. Long-term efficacy and safety of renal denervation in the presence of antihypertensive drugs (SPYRAL HTN-ON MED): a randomised, sham-controlled trial. Lancet. 2022;399:1401-10.
31. Rader F, Kirtane AJ, Wang Y, Daemen J, Lurz P, Sayer J, Saxena M, Levy T, Scicli AP, Thackeray L, Azizi M, Weber MA. Durability of blood pressure reduction after ultrasound renal denervation: three-year follow-up of the treatment arm of the randomised RADIANCE-HTN SOLO trial. EuroIntervention. 2022;18:e677-85.
11. Applegate RJ, Sacrinty MT, Kutcher MA, Kahl FR, Gandhi SK, Santos RM, Little WC.. Trends in vascular complications after diagnostic cardiac catheterization and percutaneous coronary intervention via the femoral artery, 1998 to 2007. JACC Cardiovasc Interv. 2008;1:317-26.